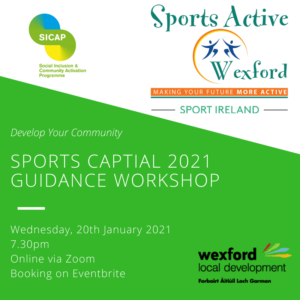 Wexford Local Development & Sports Active Wexford hosted a Sports Capital Programme Guidance workshop on the evening of Wednesday, January 20th.
The workshop, which was held over Zoom, aimed to provide information and guidance to clubs and groups considering submitting an application to the 2021 Sports Capital Programme.
Clubs and community groups from across Co Wexford attended as did representatives from Clann Credo Social Finance and Community Finance Ireland who were on hand with advice regarding the financing of projects.
The deadline for registration on the online portal (with tax registration number) is February 15th 2021 and the deadline for final submission of the applications via the portal has been extended to Monday, March 1st at 5pm; but a key piece of advice from the workshop was to not leave the application until the last minute as technology can & often does go wrong just when you need it most.
We've put together a few resources that may be useful for the participants & for those who couldn't join us at the workshop.
Workshop Presentations
Workshop Presentation – Final_Developing Sports and PA – Sports Capital Presentation with WLD_Jan 20 2021
Clann Credo Presentation – 20210120_ClannCredo_Wexford_SportsCapital
Videos
Guide to making an application – 14 minute YouTube Video Guide by the SCP
Clann Credo Information Session re financing your project – Recorded Webinar Link ( Passcode – ^2fKp*Fv )
External Links
Online Sports Capital Application Register (OSCAR) – – lots of other info on the portal including a blank application form which you can download (noting the word/character count allowed in each section)
Further Help:
Wexford Local Development Community Development Team – full contact details for the team across the five districts
Sports Active Wexford – Contact Form on the website
Wexford County Concil Community Section – Supports, Grants & Awards
Clann Credo – Rosin Mulligan P: +353 (0)1 400 2100 M: +353 (0)86 3098098
Community Finance (Ireland) contact regarding supports is – Barry Symes, 086-1422720 and a direct application can be sent in at