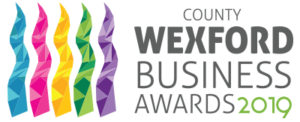 REMINDER to join in and be part of the most prestigious & reputable business event namely the County Wexford Business Awards 2019.
The Wexford Business Awards, now in their eleventh year, are county wide awards recognising the entrepreneurialism, innovation, diversity and talent of businesses across all sectors. The awards honour Wexford's industry leaders through the acknowledgement of innovative business processes, product development, enterprise, sustainability and overall business success.
Wexford Local Development is proud to be sponsoring the category of Wexford Visitor Attraction of the Year Award in this year's event.
This award celebrates the outstanding contribution of local attractions in drawing visitors to the area, delivering excellence in customer service and enhancing the profile of Wexford through their tourism offer.
We would like to encourage tourism operators to participate under what we feel is a very important and well deserved category as it will allow the hard work and dedication of the people involved within the tourism sector across the county be acknowledged, promoted and rightfully recognised.
Applications can be accessed through this link and must be completed and submitted online by 5pm on Friday, 5th April 2019
https://www.wexfordbusinessawards.ie/apply-online/wexford-tourism-visitors-attractions/
If you have any queries regarding the application process for this category please contact Helena Dempsey on 053 91 55866 or e-mail hdempsey@wld.ie.