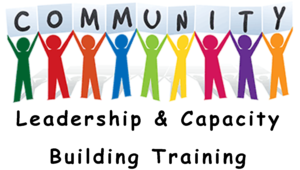 Wexford Local Development is rolling out a series of free Community Leadership & Capacity Building Courses in the districts of Enniscorthy, Wexford and New Ross commencing in the autumn.
The course will provide opportunities to explore an understanding of community, the role of the leader, look at building capacity to represent others, consider how to work well with conflict, how to engage with public bodies and build awareness of intercultural & cross-cultural communication.
Two places are available per community group with a maximum of 12 groups on each course (24 places in total).  Interested participants should be available to attend all four 1.5 day blocks being held at your preferred location.
If you or your group are interested in participating please email leader@wld.ie giving your name, your community group's name, a contact phone number and confirm which location you would like to attend.
Wexford Course – location TBC:
| | | |
| --- | --- | --- |
| Block 1 | Wednesday 11th September, 6-9pm | Thursday 12th September, all day |
| Block 2 | Friday 27th September, 6-9pm | Saturday 28th September,  all day |
| Block 3 | Wednesday 9th October, 6-9pm | Thursday 10th October, all day |
| Block 4 | Friday 8th November, 6-9pm | Saturday 9th October, all day |
Enniscorthy Course – Enniscorthy Enterprise & Technology Centre:
| | | |
| --- | --- | --- |
| Block 1 | Friday 13th September, 6-9pm | Saturday 14th September, all day |
| Block 2 | Wednesday 2nd October, 6-9pm | Thursday 3rd October, all day |
| Block 3 | Friday 18th October, 6-9 pm | Saturday 19th October, all day |
| Block 4 | Wednesday 6th November, 6-9pm | Thursday 7th November, all day |
New Ross Course – Brandon House Hotel:
| | | |
| --- | --- | --- |
| Block 1 | Wednesday 18th September, 6-9pm | Thursday 19th September, all day |
| Block 2 | Friday 4th October, 6-9pm | Saturday 5th October,  all day |
| Block 3 | Wednesday 23rd October, 6-9pm | Thursday 24th October, all day |
| Block 4 | Friday 22nd November, 6-9pm | Saturday 23rd November, all day |