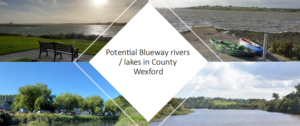 Wexford Local Development is offering free training and supports for individuals, clubs, businesses and community groups in County Wexford to develop and operate recreation amenities and potential Blueways. Are you currently utilising or planning to develop sports, environmental, cultural or enterprise amenities along rivers within County Wexford – if so, this training programme is for you!
Funded under the LEADER programme, this river-based amenity development training programme will assist you to increase the awareness and amenity of rivers in your locality. The training and support provided will assist you to:
Identify current amenity gaps and how your project can respond to these gaps.
Understand planning, environmental, and sustainability requirements.
Gain a broad understanding of the water-based tourism sector for inland waterways; relevant funding opportunities; and an understanding of governance structures and business planning.
Enhance your knowledge of how to identify and develop water-based amenities in accordance with the Blueway accreditation process.
Prepare an Action Plan and a stepped process to realising this.
Network between groups and individuals with a shared interest in river recreation.
Course Programme: 8 modules including 2 field trips, class-based tutorials and site visits (Feb-Jun).
Where: County Wexford. A bus will be provided for field trips to other locations.
Training Cost: Free to all participants.
Application Form Deadline: Friday 3rd February 2023
For further information or to register for this programme, please contact Dr. Yvonne Byrne by email: info@yvonnebyrneconsultancy.ie or telephone 087 0686586.
Training course info: Brochure Blueway Programme
Application form: Application Form