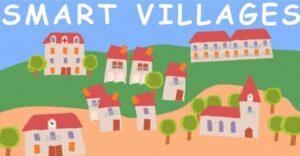 What are Smart Villages?
Smart Villages are communities in rural areas that use innovative solutions to improve their ability to adapt to change, building on local strengths and opportunities.
This 3min video by the European Network for Rural Development explains the concept: https://www.youtube.com/watch?v=ckB71hb0kx0
Why are Smart Villages important?
Smart Villages work as a collective, implementing innovate projects which improve the quality of living for all. Smart village projects can be realised in areas such as transport, energy, governance, digital connectivity, health, local enterprise, remote working.
How do we know the Smart Village concept works?
A number of pilots have been delivered in villages across the EU. Most recently multiple villages in the Alpine region developed a number of Smart Village projects. Projects ranged from the creation of a local producers' selling platforms to help shorten supply chains, operating a citizen taxi to address transport issues and one remote village secured a company to bring fibre broadband to their area.
Participating villages have shared their projects, approaches and outcomes here: https://smart-villages.eu/language/en/home/
What funding will be available for villages who wish to develop Smart projects?
Currently there is no singular source of funding for Smart Villages. The area is considered important to the EU and there are indicators that it will become a priority area for the next LEADER Programme in 2023.
My village is interested so what do we do?
WLD is rolling out a training programme on SMART Villages in four districts in the autumn/winter of 2021. Each programme runs for 7 weeks, one night a week (evening sessions of 2hrs). The programme will ready villages to access future EU funding for Smart Villages.
Programme modules include exploration of:
Digital transformation
Climate change, renewable energy & emission reduction
Circular economy
Health & well being
Social & Community Development
Digitization of tourism & recreation
Who is the training for?
The training is limited to a max of 5 community groups from each of the 4 areas, 3 to 4 participants per group should attend the training. The group should already be actively participating in community development and have an appetite to further develop their area for the betterment of all.
Course locations and dates

Please note that a waiting list applies to the Wexford and Gorey courses.
Further information can be found on the course here
Communities interested in learning more about the course and potentially participating are invited to submit an expression of interest form. Click here to access the form.
The Smart Villages Training Course is being funded by the LEADER Programme 2014-2020