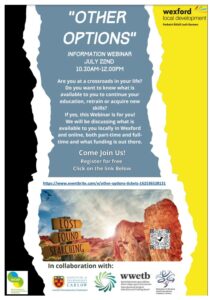 Thursday, July 22nd 10.30 am to 12.00 pm
Are you at a crossroads in your life? Do you want to want to find out what's available locally in Wexford for you to retrain or upskill?
Whether you are a young person starting out or you have been job seeking for a while or considering a change of career we can help.
Other Options is a free webinar about online, part time and full time education and training opportunities presented by Wexford Local Development in collaboration with WWETB and IT Carlow, Wexford Campus. We will also cover funding options and other supports.
Come and join us and register for free on this link