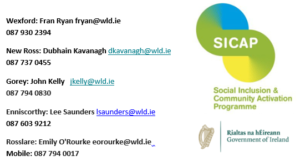 Wexford Local Development knows how important community activities always have been. As we gradually return to a 'new normal' we understand that the solidarity provided through community is even more crucial to the future well being of Irish society and our priority for the rest of 2020 is to help our local communities in Co Wexford recover safely.
We are hosting an online Zoom session on Wednesday, June 24th 2020 at 7.30pm, which will introduce community representatives and leaders to some of the services & supports that will hopefully make the road ahead a little easier to navigate. This event is free and open to all but registration is essential
It will not be the case that things can resume exactly as they did before; safety and public health has to be to the fore – but we will do what we can to help local community groups resume activity by providing practical supports & guidance; training where relevant and referral to other bodies. We will help you navigate the Roadmap for Reopening Irish Society & Business and the detail within.
During the height of this COVID 19 crisis it was this very sense of community that shone, supporting our most vulnerable at street & parish level across Co Wexford.
WLD has been supporting this work over the past months and now is inviting representatives from communities across Co. Wexford to join us for an online session where we will outline a range of supports that will help voluntary community groups across the county to resume activities in response to what groups have been telling us they need. Some of these supports are already being actively delivered while others are planned over the summer months and will be phased in as restrictions are gradually eased.
We are also offering 1-1 IT support over the phone for those who need some help to set-up or access Zoom. If your group members would like to avail of this support, contact details for your local district Community Development Officer are below.
We have consulted with many groups on the ground and are acutely aware of the need for risk assessments, detailed guidelines; training; adaptation of facilities; adaptation of activities and most of all, mutual support for ideas & collaboration. We are also acutely aware of the financial pressures now facing community organisations and the added frustrations/pressures facing volunteers and committees who have done so much already this year with little or no regular fundraising streams available.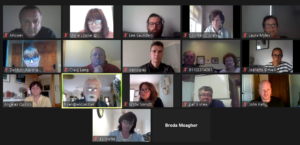 We do not have all the answers and will certainly not have the resources to meet all needs, but we can provide a lot of practical supports through our various programmes and in partnership with community and statutory bodies, locally, regionally & nationally. #InThisTogether
#SICAP #TUS #LEADER #CommunityCall
*Note: This session is free and open to all community groups, however priority supports will be to groups currently engaged via our core programmes – Social Inclusion & Community Activation Programme (SICAP); TUS & LEADER.
We will assist organisations outside the remit of these programmes to access support via other organisations or via general WLD Community Supports
Click on this link to book you place