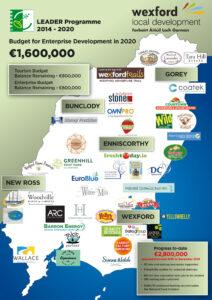 In excess of €1.6 million in LEADER grant aid is available to start-ups and expanding businesses throughout County Wexford in 2020. This presents a huge opportunity for businesses across a range of sectors, to avail of substantial grant aid to enable them to expand or diversify their business thereby creating additional jobs and sustaining existing jobs. Funding is available for expenditure such as equipment and building works as well as for marketing and feasibility studies.
Since the commencement of the LEADER Programme in late 2016, almost €3 million in grant aid has been allocated to 54 Wexford businesses in the tourism, food, creative industry, specialised engineering and other sectors. This is expected to result in the creation of 160 new jobs as well as sustaining 386 existing jobs, thereby having a significant impact on the local economy. A sample of the diverse range of grant aided businesses include EuroBlue and Fresh Today in Enniscorthy, Kelly's Bakery and Good Food Ireland in Wexford, Coatek and Wexford Lavender Farm in Gorey, Wexford Home Preserves and The JFK Dunbrody in New Ross. Through LEADER, specialised engineering companies such as Slaney Precision Ltd, Ballycarney, DC Fabrication Ltd, Blackwater and ARC Engineering Ltd, Foulksmills have also been supported to expand their businesses.
In this, the final year of the current LEADER Programme, grant aid of up to 50 per cent of eligible costs is now available to niche businesses that have up to one hundred employees. Grant aid of up to €200,000 per business is available, subject to specific criteria.
The LEADER Programme is funded by the EU and the Irish Exchequer and focuses on promoting social inclusion, poverty reduction and economic development in rural areas. Wexford Local Community Development Committee (LCDC) in partnership with Wexford Local Development (WLD) has responsibility for the delivery of the funding in the county under the remit of the Department of Rural and Community Development. Through LEADER, Wexford LCDC focuses on supporting local economic development, including diversification of the rural economy and the creation of employment opportunities in the county. Decisions on LEADER funding happen at a local level and are targeted at key areas in need of the greatest support thereby benefiting a wide range of businesses throughout the county.
To discuss the eligibility of your business for LEADER funding, talk to Tom Bermingham or Helena Dempsey at WLD or email: leader@wld.ie
Media release: https://www.wexfordpeople.ie/business/funding-boost-for-county-38879995.html