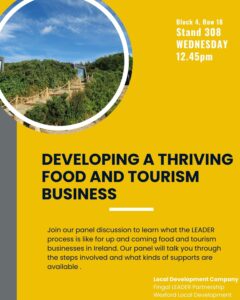 We are happy to confirm that WLD will be at the Irish Local Development Network (ILDN) stand at the National Ploughing Championships this week in Ratheniska, Co Laois. We are located at Row 18, Block 4, Stand 308 and would be delighted to meet you there if you are going to the ploughing.
A wide range of projects from throughout the country will be show-cased covering the themes of Social Inclusion, Health and Wellbeing, Climate Action, Rural Development and Employment & Enterprise. These demonstrate the impactful work of Wexford Local Development and all local development companies building vibrant and inclusive communities across the country.
On Wednesday @ 12.45pm, LEADER Coordinator, Tom Bermingham will outline the opportunities for start-up or expanding food and tourism businesses to avail of LEADER grants. Tom will outline the process, step by step in a user-friendly manner.
We hope to see you there!