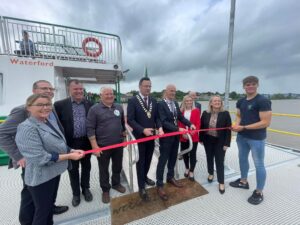 Thursday 26th May 2022 was a proud day for many people associated with the new Barrow Princess river cruiser, not least Declan Bates and his family. Declan – the man with the vision and determination to bring this project to fruition deserves great credit for coming up with the idea and then having the stamina to work through all the rules and regulations that were involved over several years.
The Barrow Princess project began life as a feasibility study grant aided by LEADER and carried out by Tony Ennis Consultants back in 2013. The study clearly outlined the opportunity to provide a unique new tourism experience based on the natural amenities of the river Barrow and estuary as well as the tourism hubs of New Ross and Waterford city.
To make this happen, the local authorities in Wexford and Waterford as well as Failte Ireland and Wexford Local Development all saw the merits and got behind this project. In 2020, Wexford Local Development in conjunction with Wexford LCDC were delighted to award €200k of LEADER grant aid towards the refurbishment costs involved in transforming the former Scilly Isles taxi boat into the superb 75 seater Barrow Princess that now operates between New Ross and Waterford city.
The Barrow Princess will have a significant impact on the economy of the region. This will be especially evident when the new greenway linking New Ross to Waterford opens up. The South East already has a strong national position in the domestic tourism market and the Barrow Princess will be a great addition to the existing tourist attractions and undoubtedly draw more visitors to the region.
WLD have no doubt that Declan and the team will deliver a tourism attraction of which all involved can be proud!