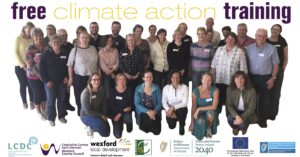 Climate Change is challenging our society both nationally and locally and will have considerable impact on local Wexford communities. To address this challenge Wexford Local Development (WLD) is offering a FREE climate action training course to help you and your community build climate awareness and local climate capacity.
This FREE 4 week course offers participants an exciting opportunity to gain practical knowledge about climate change and develop their skills in climate action that they can apply to local activities.
The training course is also intended to inform local groups about the SEAI Sustainable Energy Community programme, enabling communities to apply for up to 50% grant funding for community related energy upgrade projects.
Brian Kehoe CEO of Wexford Local Development said "We are offering Wexford Communities 4 Climate Action to help Wexford communities to be more resilient in the face of climate change while assisting participants to identify local climate action projects that could be eligible for funding and support".
Gavin Harte who will be delivering the course said "We are inviting individuals and groups in County Wexford to sign up for the course and help get Wexford communities climate ready".
See a course summary and link to the registration form here: Climate Action Training Summary and Booking Link