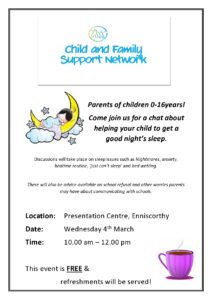 The Child and Family Support Network are organising a free event for parents around the subject of SLEEP!
Parents of children 0-16years!
Come join us for a chat about helping your child to get a good night's sleep.
Discussions will take place on sleep issues such as Nightmares, anxiety, bedtime routine, 'just can't sleep' and bed wetting.
There will also be advice available on school refusal and other worries parents may have about communicating with schools.
Location: Presentation Centre, Enniscorthy
Date: Wednesday 4th March
Time: 10.00 am – 12.00 pm
This event is FREE &refreshments will be served!
No booking required – Enquiries to Karen 053 – 9236343