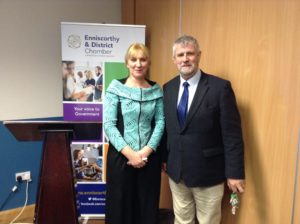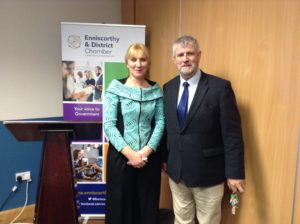 On Friday, 8th March 2019, Enniscorthy & District Chamber hosted another innovative networking lunch at Kilcannon Garden Centre.
Chamber Development Officer Jimmy Gahan invited Helena Dempsey, Enterprise Development Officer of Wexford Local Development to speak to the Chamber members and guests present about the current LEADER Programme 2014 – 2020.
An informative overview of the LEADER Programme was presented which applauded its many achievements and successes. Examples of the brand names located in the Enniscorthy area supported under by LEADER include Carrigbyrne Farmhouse, DC Fabrication, EuroBlue, Featherbed Farm, Freshtoday, Greenhill Fruit Farm, Killowen, National 1798 Centre, Secret Valley Wildlife Park & Zoo, Slaney Kayak and The Village at Wheelocks to name but a few.
Details of the application process was advised by Helena and she encouraged SME's to come forward to identify the various supports and grants that may be available to them under the programme.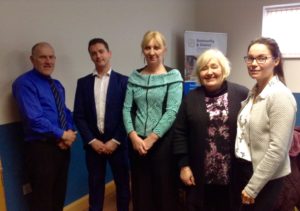 Chamber President Maree Lyng reiterated to the Chamber members and guests present the importance of availing of the supports and thanked Helena for the detailed presentation, Kilcannon Garden Centre for the great venue and lunch and Enniscorthy & District Staff for their help and assistance in organising the very worthwhile event.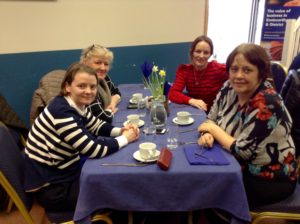 If you have any queries on how the LEADER Programme could assist in the development or expansion of your business please call 053 91 55800.
Please ask for Helena if your business is located in Enniscorthy or New Ross or Tom if you are located in Wexford or Gorey.
We look forward to hearing from you.