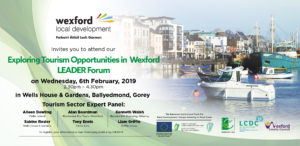 Wexford Local Development will host a tourism forum on Wednesday 6th February 2019. The forum will focus on "Exploring Tourism Opportunities in Co Wexford" and be held in the new Robertson Hall at Wells House & Gardens near Gorey from 2.30pm – 4.30pm.
The availability of almost €1m in LEADER grant aid for both start-up and expanding tourism businesses in the county in 2019 offers a huge opportunity for the industry. The forum will examine the latest trends in the tourism sector and hear how the LEADER Programme can support tourism businesses and initiatives in the county.
Sabine Rosler of Wells House, Alan Boardman of Blackwater Eco Tours in Waterford and Kenneth Walsh of Brandon Hill Glamping in Graiguenamanagh, all recipients of LEADER grant aid, will discuss the development of their niche businesses and how they overcame challenges along the way.
The forum will also identify and debate issues around developing tourism in a regional, national and international context and hear the views of industry experts to include Aileen Dowling of Failte Ireland, Tony Ennis, Business Consultant and Liam Griffin of the Griffin Hotel Group and Chairperson of the South East Action Plan for Jobs Tourism Group.
The forum will provide an excellent opportunity to network with tourism business operators in the region as well as to see the latest facilities at Wells House & Gardens. Anyone involved or interested in tourism in Co Wexford is welcome to attend. While entry is free of charge, those planning to attend are requested to register their attendance by email to hdempsey@wld.ie by Monday 4th February.