Community Projects
Wexford Local Development is open to expressions of interest (EOI's) for community grant aid applications under the LEADER Programme from Monday 8th November to 12noon on Monday 22nd November 2021. Projects eligible for LEADER funding include; building works/refurbishment projects, purchase of equipment, development of websites / development of new marketing materials, training and feasibility studies. EOI's are welcome under any/all of the community themes; rural towns & villages, social inclusion and environment.
Interested community groups should complete and submit an EOI form by Monday 22nd November at 12noon. The EOI can be found here.
The total budget for this call is €650,000. The minimum grant aid amount is set at €5,000 and the maximum is €75,000. Grant aid rates are as follows: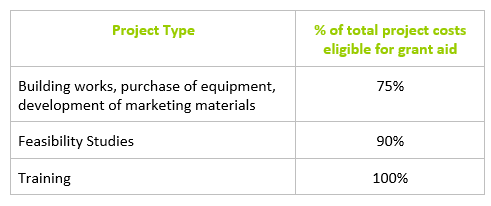 This information is available in Irish here.
For further information on funding available and to discuss your project ideas, please contact the LEADER Project Officer for your district:
Community LEADER Funding 2014-2020
Wexford Local Development was delighted to support communities to access LEADER funding from 2016 to 2020. Below is a map and breakdown of the communities supported:
Latest LEADER Community News
Free Biodiversity Awareness Training for Community Groups
Free Climate Action Training Course
LEADER funding to drive post-Covid recovery in Co Wexford
LEADER Community projects will light up 2021