The LEADER Programme 2014-2020 in County Wexford aims to provide rural communities, small enterprises and social enterprises with grant aid which supports developments in areas and sectors as set out in the Wexford Local Development Strategy. The programme is now open for applications, with funding available for enterprise and community projects.
The application process is competitive with no guarantee of applicants being awarded grant aid.
COVID-19 Business Supports available under The LEADER Programme
Our LEADER enterprise team are available to give you support remotely during COVID-19. See further details and information below: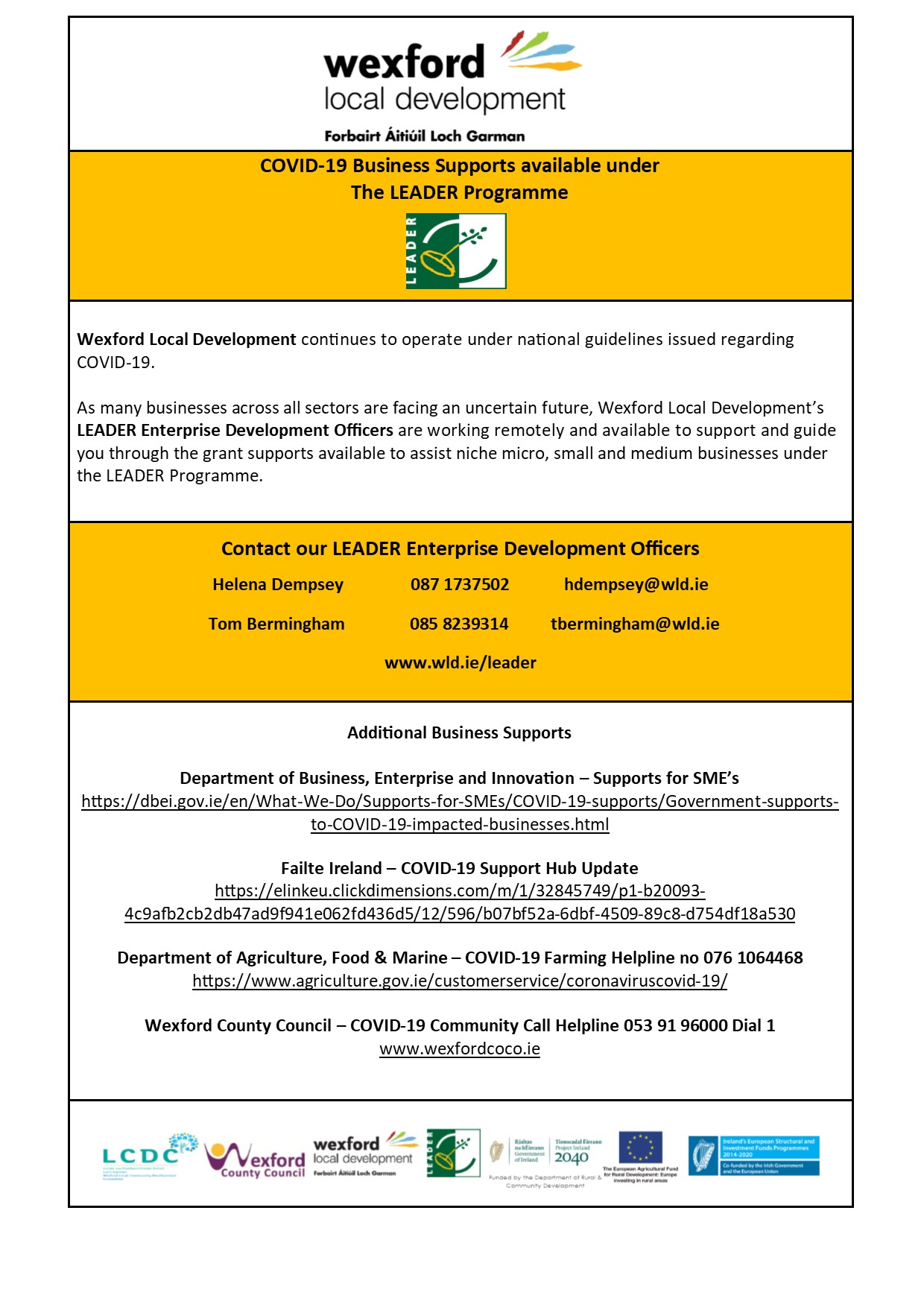 Enterprise Projects
Funding is available for niche start-up and expanding businesses across a range of sectors. WLD is now seeking applications for funding from niche enterprises such as general enterprise, food & beverage producers, tourism attractions, craft/creative industries, renewable energy and farm diversification. Businesses (up to 100 employees) can apply for up to €200,000 grant aid.
Enterprise applications are now accepted on a rolling call basis. Applications are preceded by completing and returning an Enterprise Applicants Expression of Interest Form 2018. It is advisable to contact Tom Bermingham or Helena Dempsey to discuss whether your business is eligible for LEADER funding.
€1.5 million in LEADER grant aid is available in 2020
A total fund of €1.5 million in LEADER grant aid is available to niche Wexford businesses. Grants of up to €200,000 are available to eligible businesses with up to 100 employees. For more details, listen to a recent interview by Karl Fitzpatrick with Tom Bermingham of WLD's LEADER Team on South East Radio's Business Matters programme:
Community Projects
The LEADER community fund is currently closed to applications. Any future funding calls will be promoted on WLD's Facebook page and on this website.
Processed Applications & Grant Awards
Applications submitted in January 2020 & December 2019 are being processed under five community calls; analysis & development, walking trails, youth facilities, biodiversity and water resources. Awards will be confirmed in May/June 2020.
Wexford Local Development was delighted to support communities to access LEADER funding in 2017-19:
Arts & Culture projects – Total fund allocated to 21 community groups €265,969.56
Playgrounds/Outdoor Gyms – Total fund allocated to 13 community groups €377,408.44
Youth Facilities – Total fund allocated to 6 community groups €117,993.39
Community Facilities – Total fund allocated to 22 community groups €1,316,443.52
Village enhancements – Total fund allocated to 4 community groups €115,865.36
Biodiversity – Total fund allocated to 1 community group €39,574.61
Recreational Facilities – Total fund allocated to 4 community groups €112,780.99
---
Subscribe to receive LEADER updates
If you subscribe to receive updates our LEADER team will email you news and information on funding calls for the LEADER Programme as and when they happen. We will hold your contact details on a database in Wexford which is visible to WLD staff.
If you have a project in mind, we strongly advise you to contact one of our project officers to have an informal chat about your project idea. Phone WLD on 053 9155800, or email at
leader@wld.ie.