The Cornmarket Project Mission Statement:
'To reduce substance misuse, criminality and social exclusion in County Wexford by providing a range of best practice evidence based programmes'
The Cornmarket Project Value Proposition:
The Cornmarket Project is in the business of creating lasting positive change by dealing with substance misuse, criminality and social exclusion. We adhere to the highest standards of corporate and clinical governance and manage ourselves professionally. Our high performance teams deliver proven results throughout County Wexford using our unique COAIM knowledge management and quality system tools. Through agreements with our key stakeholders, we deliver a range of services in compliance with budget allocations, on target and on schedule. We pride ourselves on having a countywide footprint supported by local resources.
15 Years Responding to Drugs and Criminality in Wexford
The Cornmarket Project is an inter-agency community based treatment and rehabilitation project under the auspices of Wexford Local Development. The project enables offenders and substance misusers to move back into a stable and productive lifestyle. The project operates from premises based in Wexford Town, New Ross, Enniscorthy and Gorey and throughout the rest of the county through the provision of an outreach service. The collaboration between Wexford Local Development and its various partners including the Department of Justice and Equality through the Probation Service, the Department of Social Protection through Community Employment Schemes, the Department of Health through the HSE, Wexford County Council through the SICAP programme and the local Education and Training Board, has seen the Cornmarket Project develop into a unique and effective response to criminality and substance misuse, thereby contributing to the development of safer communities in Wexford.
The Project is distinctive in having a totally integrated approach to dealing with complex social issues through a range of programmes and supports for people in trouble as a consequence of criminality, drugs and alcohol. The project refers to this way of working as having a continuum of services approach. In essence it means that people who need support can access it quickly without having to jump through hoops. In addition, a great strength is that the Project also offers support to the families of these people. The project has also developed a range of restorative justice programmes supporting early and effective interventions by involving young offenders in a range of "community payback" programmes, thereby contributing to breaking negative cycles of addiction and criminality. It is only through such integrated, innovative and forward looking strategies and actions that we can make headway in tackling the scourge of drugs, alcohol abuse and crime within our local communities.
From constant media coverage we know only too well how other towns and cities in Ireland have been ravaged by the crime and despair that drugs have visited on their communities. In Wexford we can ensure that we don't go down a similar road. Entrenched drug abuse and on-going criminality has links to social exclusion and it is only through having an integrated approach to the whole life pattern of those affected, that we can bring about real change and so contribute to ensuring safer communities in Wexford.
Wexford Local Development is extremely pleased with the success of the Cornmarket Project in meeting its objectives over the past fifteen years and equally pleased to be associated with its on-going development. In particular, we express our appreciation to the management, staff and volunteers directly involved in the work of the project and to the members of the Steering Committee for their continued commitment, dedication and energy.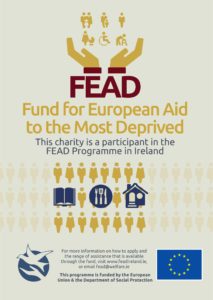 Included in Cornmarket Project services is FEAD support which will help people take their first steps out of poverty and social exclusion. FEAD helps people by addressing one of their most basic needs i.e. food and non-food for personal use e.g. sleeping bags, shampoo and other items for personal use, which is a precondition for them to be able to get a job or follow a training course.