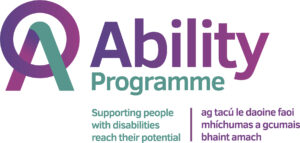 The aim of our Ability Programme is to support people, over 18 years of age , with an intellectual disability who are not job ready to develop appropriate pathways that move them closer to the labour market and support them to gain employment.
We use a range of person centred approaches to achieve this goal.
Our supports included providing:
Access to work placement opportunities
Tailor-made education and training programme
Employment supports and job skills programmes to improve employability.
The objectives of our programme are;
To increase labour market participation of people with disabilities
To increase employment skills or employability of people with disabilities
To increase the number of employers establishing good practices and supportive workplaces for people with disabilities
To increase the numbers of employers providing paid work/placements for people with disabilities
How we support Ability Programme participants:
We use a range of person-centered approaches including the development of a personal action plan (PAP) or working with a pre-existing personal action plan, to identify training needs in personal/social and employment focused skills.
We offer support to each individual and to their circle of support to identify their career pathway and educational opportunities
We assist participants to develop the confidence and independence required to participate in education, training and employment.
We provide tailor made education and training programmes including employment supports in one-to-one and group support training environments, including industry and career specific training including QQI accredited modules.
We offer one-to-one support with CV and Cover Letter creation, interview skills training and mock interviews.
We provide participants with access to work experience/placement opportunities with support for any needs or challenges identified and if any further skills based training is required on completion.
We collaborate with EmployAbility service to support a seamless transition between Ability and EmployAbility for participants that are job ready, seeking paid employment or should a work experience develop into paid employment
We work with & build the capacity of employers to offer work placements and employment, promoting the benefits of having an inclusive workplace and providing ongoing supports and assistance as requested
We identify, with employers, any reasonable accommodations to be made and identify any additional training or supports to increase capacity to recruit and retain people with disabilities in the workforce.
Eligibility criteria for this Programme:
Aged 18+ years old
Have a diagnosis of an intellectual disability
In receipt of disability allowance or invalidity pension or in receipt of illness benefit for more than three months
Living in the County Wexford area
OR
Referred to our programme by relevant organisations or services supporting people with disabilities.
Referral Forms are available HERE.  For more information, please email our Employment Support Officers:
Or contact us at the WLD Enniscorthy Office, IFA Centre, Mill Park Road, Enniscorthy on 053 91 55864

"This project was approved by Government with support from the Dormant Accounts Fund".